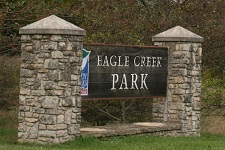 Cities are great place to visit with all the hustle and bustle, the shops, the elegant atmosphere, and the non-stop fun especially in Indianapolis, Indiana, but for those of us that live in a big city, traveling to the city may not be as enjoyable an experience. What most of us fail to realize is that there is much more to a city than just the central city life and fast-paced action.  A city is filled with all walks of life, and even has something fun for those who want to experience more than the hustle and bustle of the crowds. Instead of venturing to the busiest part of the city, venture out among the land to the outskirts of city life, and there you will find Eagle Creek.
If you are visiting the grand city of Indianapolis finding a hotel may be a daunting endeavor because there are so many to choose from. Whether you want to be pampered in a luxurious get away or have that feeling of home Indianapolis has just what you are looking for. Here are the top 10 hotels in Indy.
The Columbia Club is conveniently located in Indy near many different monuments and attractions. The hotel is luxurious and has many amenities. For your dining options the hotel offers two restaurants and a bar. If you want to stay in and eat room service is available. Some of the things to do in the hotel include a sauna, fitness facility, and a steam room.
When it comes to a city like Indianapolis, it is like the majority of cities in the Midwest, it has four different seasons. Summers are hot and humid, while winter is cold and damp. Depending on the time of year, usually will determine what type of clothing and outerwear attire that you will need, plus what activities you will be able to participate in especially outdoors.
Indianapolis is a grand city with an energetic downtown, lively bar scene, and is the thirteenth largest city in the United States. It is well known for its state of the art professional sports sites, many distinctive cultural attractions and a prosperous convention business. The Hoosier friendliness and charisma make Indianapolis exceptional.
From sun up to sun down there is nothing but fun in Indianapolis. This is one of the hottest tourist spots in the United States. Because so many people are into the Motor Speedway home of the Indy 500 and Brickyard 400, Indianapolis sees visitors from all over the world. Even famous actors come out to play in Indianapolis. Whether your whole family wants to plan a trip here, you just want to travel around the world exploring; Indianapolis is definitely the place to tour. There is more than corn in Indiana and Indianapolis plans to prove it to you.