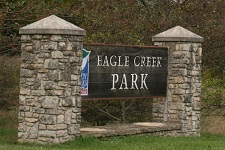 Cities are great place to visit with all the hustle and bustle, the shops, the elegant atmosphere, and the non-stop fun especially in Indianapolis, Indiana, but for those of us that live in a big city, traveling to the city may not be as enjoyable an experience. What most of us fail to realize is that there is much more to a city than just the central city life and fast-paced action.  A city is filled with all walks of life, and even has something fun for those who want to experience more than the hustle and bustle of the crowds. Instead of venturing to the busiest part of the city, venture out among the land to the outskirts of city life, and there you will find Eagle Creek.
Indianapolis is a grand city with an energetic downtown, lively bar scene, and is the thirteenth largest city in the United States. It is well known for its state of the art professional sports sites, many distinctive cultural attractions and a prosperous convention business. The Hoosier friendliness and charisma make Indianapolis exceptional.
Are you looking for a little nightlife fun? Come live it up in downtown Indianapolis; from a karaoke bar to trendy upscale lounges, Indianapolis is the hopping place to be offering a variety of options for an exciting night out on the town. Whether you are looking for a quiet place to sit and have a few drinks, a family activity, or an outrageous party time, Indianapolis is filled with just what you need.
Do you hear the vrooming sound of racecars speeding around the track? Listen really closely and you can hear the call of Nascar! No matter where you are in Indiana, you can hear the subtle calling from the seats of the Indianapolis Raceway Park. At this point, you are probably thinking we are talking about the Motor Speedway, home of the Indianapolis 500, but don't get mixed up; we are talking about the Indianapolis Raceway Park tucked deep in Indianapolis. Recently renamed the O'Reilly Raceway Park, this gem of a racetrack gives you more Nascar action than any other track in Indianapolis!
The Indianapolis Children's Museum takes children and their parents on a journey through history and science as they explore tunnels, climb walls, build, and various other activities. Even if you don't have kids, this is the perfect opportunity to relive your childhood or at least take a break from adulthood. This museum is the largest children's museum in all of the United States. Founded in 1925, it is the fourth oldest building, yet the most modern in exploration. This is the most sought after museum for displays, shows, Indianapolis events, and age-specific activities for all family members.