Eagle Creek in Indianapolis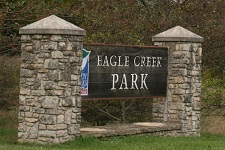 Cities are great place to visit with all the hustle and bustle, the shops, the elegant atmosphere, and the non-stop fun especially in Indianapolis, Indiana, but for those of us that live in a big city, traveling to the city may not be as enjoyable an experience. What most of us fail to realize is that there is much more to a city than just the central city life and fast-paced action.  A city is filled with all walks of life, and even has something fun for those who want to experience more than the hustle and bustle of the crowds. Instead of venturing to the busiest part of the city, venture out among the land to the outskirts of city life, and there you will find Eagle Creek.
Eagle Creek is just ten minutes outside of the downtown area; however, away from all the hustle and bustle of the city, you can enjoy sailing, windsurfing, or bird watching while you enjoy all the beauty nature has to offer. Stay for the week or just one day at the largest community parks in the United States. With one-thousand four hundred acres of pure water fun and three-thousand nine-hundred acres of dry land extravaganzas, there is more room to do as you wish than anywhere else.
Eagle Creek was once owned by the J.K. Lilly (Eli Lilly & company) previous to Purdue University in the early 1950s; however, the University sold its beautiful land filled with hills, lush green fields and trees, and colorful accents to the city of Indianapolis. Because there was a dam built there to control the flooding from the creek, we now have what we know as Eagle Creek Reservoir. Though, museums carry a lot of history, Eagle Creek is full of live history that you can actually experience as you travel through its beauty and nature.
Go swimming, canoeing, kayaking, sail boating, wind surfing, or if you haven't got a clue how to do any of that, take some lessons for any or all. Have a picnic or trek through the wilderness trails; no matter what you do, you are sure to have a non-hustling good time as you sit back and enjoy nature's beauty and the fun you can have in the wide outdoors. There is nothing like traveling to where everything once started; in the wild lands of nature and beauty.