Indianapolis International Airport
When you travel with the Indianapolis International Airport, you get more than just a flying experience; you get the best of the best. The Indianapolis airport makes sure to accommodate you with all your traveling needs. Whether it is a pillow or food that you need, you can get it all while you wait for your plane. The Indianapolis International Airport offers a variety of amenities from a barbershop and travel spas to free WiFi access throughout the passenger terminal. Inside a silver dome shaped building, you will travel modern when you travel with the Indianapolis International Airport.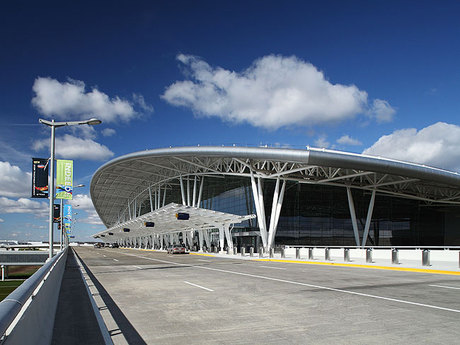 The Indianapolis International Airport is located just minutes from downtown Indianapolis and all the major interstates including I-65, I-69, I-70, and I-74. The airport is a home to twelve different airlines and services more than eight million passengers each and every year. The Indianapolis International Airport is one of the largest airports in all of Indiana. If you are traveling and need something shipped, don't worry FedEx is right around the corner. Flights are nothing to worry about. With over one-hundred and eighty daily departures and thirty-nine of them being nonstop flights, you are sure to get a flight for any day you want to travel.
The Civic Plaza of the Indianapolis International Airport offers you twenty-five thousand square feet of shopping and dining from a variety of retailers and Indianapolis restaurants. Visitors to the Indianapolis International Airport will enjoy various new and familiar names including Qdoba, Brookstone, Johnston & Murphy, Starbucks, McDonald's, CNBC, Brooks Brothers, Harley-Davidson, Borders, Pacific, Outfitters, Au Bon Pain, and Cold Stone Creamery. So, enjoy a nice lunch, dinner, or an ice cream cone while sitting on your laptop Facebooking all our jealous friends. Or, go shopping at one of our many retail shops. Whatever you decide to do, you will not be bored.
Flights are the biggest reason for going to an airport, of course, but the Indianapolis International Airport also offers ground transportation services which include rental car services like Car Rental, Enterprise, Hertz, Alamo, Avis, Budget, Dollar National and Thrifty Car Rental. You can also get luxurious taxi and limousine services, direct airport shuttle service to the college towns of Urbana, Bloomington (home of Indiana University), Champaign, and Lafayette (home of Purdue University). Another great way to save money on your trip is to use your hotels courtesy vehicles and the IndyGo bus service which transports you from airport to convenient locations around downtown Indianapolis. With so much to offer, the Indianapolis International Airport is the airport of choice for any travel.